Centro Eurostand Poster Display
| | |
| --- | --- |
| | This item weighs from 19kg |
| | Delivered in 5 working days |
| | Hardware has a 2 year guarantee |
| | This item takes from 15 minutes to set up |
| | This item is a mid-range product |
Free Standing Poster Display System
Posters are housed securely in double-sided clear acrylic pockets, and surrounded within the Centro designed frame.
You can further add to the display with the accessories available in the Centro range such as literature presenters and podium tables, all available in a variety of coloured acrylics.
Not forgetting our popular iPad holders which can be fitted to either the Centro post or podium top to create a truly interactive and visually appealing display.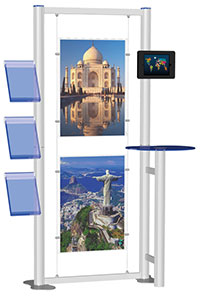 Eurostand Poster Display Accessories
Podium kit
Acrylic top available in neon blue, red and green or frost
Special non-scratch, clear surface coating
Clamps securely to Centro system post in a variety of positions
Podium top dimensions 500(w) x 443mm(d)
iPad post mounting kit
iPad holder and mounting bracket
Available in textured black or white finish
Holder rotates 360°
Overall holder dimensions
1 Portrait: 206(w) x 58(d) x 294mm(h)
2 Landscape: 294(w) x 58(d) x 206mm(h)
Screen mounting kit
Expanding bracket clamp with heavy-duty screws to secure screen to post
Uncomplicated assembly with 5mm hex key supplied
Maximum screen size 22 inches (not supplied)
Brochure holder set
Acrylic A4 portrait brochure holder
Available in neon blue, green and red, or standard frost
Thermoformed one piece acrylic to maximise strength
Simple 'hook over' style fitting
Get an email quotation for Centro Eurostand Poster Display.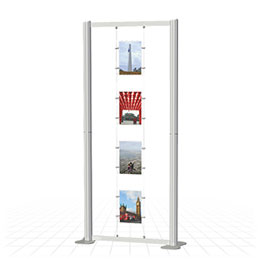 Poster Kit 1
Features & Benefits
Premium quality double-sided clear acrylic display poster pocket holders
Chrome connectors, stainless steel hanging wire and hex keys supplied
Range of coloured contemporary acrylic post caps and accessories
Dimensions
4 x A4 Portrait double-sided 2mm thick clear acrylic poster holders
1006mm (wide) x 380mm (deep) x 2021mm(high)
Weight 19kg
Poster Kit 2
Features & Benefits
Premium quality double-sided clear acrylic display poster pocket holders
Chrome connectors, stainless steel hanging wire and hex keys supplied
Range of coloured contemporary acrylic post caps and accessories
Dimensions
8 x A4 Portrait double-sided 2mm thick clear acrylic poster holders
1006mm (wide) x 380mm (deep) x 2021mm(high)
Weight 21kg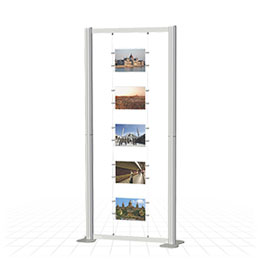 Poster Kit 3
Features & Benefits
Premium quality double-sided clear acrylic display poster pocket holders
Chrome connectors, stainless steel hanging wire and hex keys supplied
Range of coloured contemporary acrylic post caps and accessories
Dimensions
5 x A4 Landscape double-sided 2mm thick clear acrylic poster holders
1006mm (wide) x 380mm (deep) x 2021mm(high)
Weight 20kg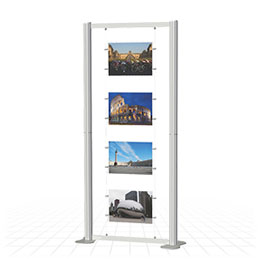 Poster Kit 4
Features & Benefits
Premium quality double-sided clear acrylic display poster pocket holders
Chrome connectors, stainless steel hanging wire and hex keys supplied
Range of coloured contemporary acrylic post caps and accessories
Dimensions
4 x A3 Landscape double-sided 2mm thick clear acrylic poster holders
1006mm (wide) x 380mm (deep) x 2021mm(high)
Weight 21kg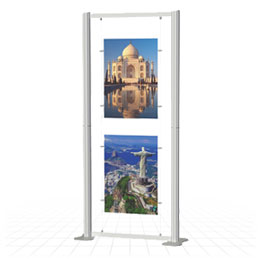 Poster Kit 5
Features & Benefits
Premium quality double-sided clear acrylic display poster pocket holders
Chrome connectors, stainless steel hanging wire and hex keys supplied
Range of coloured contemporary acrylic post caps and accessories
Dimensions
4 x 500x x700mm Portrait double-sided 2mm thick clear acrylic poster holders
1006mm (wide) x 380mm (deep) x 2021mm(high)
Weight 23kg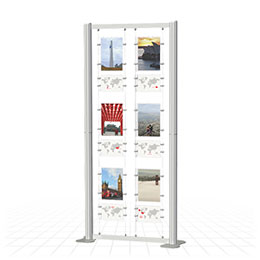 Poster Kit 6
Features & Benefits
Premium quality double-sided clear acrylic display poster pocket holders
Chrome connectors, stainless steel hanging wire and hex keys supplied
Range of coloured contemporary acrylic post caps and accessories
Dimensions
6 x A4 Portrait and 6 x A5 landscape double-sided 2mm thick clear acrylic poster holders
1006mm (wide) x 380mm (deep) x 2021mm(high)
Weight 22kg
| Title | File Size | Format | |
| --- | --- | --- | --- |
| Spec Sheet | 392kb | | |
| Spec Sheet (Kit 1) | 2.01Mb | | |
| Spec Sheet (Kit 2) | 3.10Mb | | |
| Spec Sheet (Kit 3) | 2.33Mb | | |
| Spec Sheet (Kit 4) | 2.93Mb | | |
| Spec Sheet (Kit 5) | 5.27Mb | | |
| Spec Sheet (Kit 6) | 2.77Mb | | |
| Setup Instructions (Monitor Holder) | 120kb | | |
| Setup Instructions (Podium) | 109kb | | |
| Setup Instructions (Literature Post) | 58kb | | |
Similar Products