Link2
Next Generation Linkable Banner
---
New and Innovative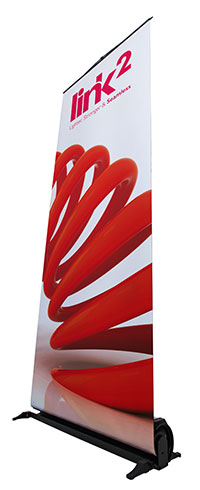 Link² is an exciting next generation of display stand, ideal for exhibitions and events. At last, a portable display stand where the user can easily change graphic panels on-site, and the ability to link stands together.
Change graphic panels on-site
Link² has a patented and unique graphic exchange system included in the base unit. It takes less than a minute to exchange a graphic panel, and requires no expertise. The patented graphic exchange facility means that new panels can be fitted to the base unit at your office, or at your event. No more sending display stands back to us to have new panels fitted, or having to buy expensive cassettes. We can send new panels to you, and these can be fitted on-site quickly and without hassle.
Link together - straight or curved
Link banner stands are 85cm wide x 217.5cm high. Multiple Link² display stands can be linked together to create a straight wide backdrop. Or add a 23.5cm flexi link panel to create curves and wave shapes. The patented tension design ensures the graphics are level regardless of the floor it\'s on and the base design ensures that graphic panels can be perfectly aligned so that overlapping text and images line up perfectly.
Eliminate banner stand tension problems
Even if the tension is released in the Link² base unit, it can be re-applied quickly and easily by the user. This means no more panels that won't roll back into a base unit, if the base unit suffers damage in transit.
Lightweight
A Link² display stand only weighs 6.3kg with a graphic panel, ensuring that Link² is the perfect solution to having to buy banner stands and pop up display stands. A Link² system with linking fittings will mean no more purchasing multiple types of display stands for multiple events.
Narrow footprint - ideal for shell schemes
The Link² display stand base unit is only 20cm deep. This offers a sleek reusable alternative to purchasing graphic panels fitted directly to a shell scheme. Purchase multiple Link² banner stands and join them together to create one seamless display stand to brand your shell scheme area. These can then be reused for future events, rather than purchasing multiple sets of graphic panels to fit to varying sizes of shell scheme walls.
Link² with graphic panel
| Height | Width | Weight |
| --- | --- | --- |
| 2175mm | 850mm | 6.3kg |
Flexi link panel
| Height | Width | Weight |
| --- | --- | --- |
| 2160mm | 325mm | 1.3kg |
---