Bannerbow Arch
Designing portable space
---
For when you want to be seen!
Bannerbow offers innovative display products for exhibition, event and retail. The experience and feeling that Bannerbow event arches creates are really unique. Bannerbow portable event arches and backdrop can easily create an exciting portable branding solution with style and overhead experience. Bannerbow arches offer an effective great alternative to regular portable marketing displays.
The Bannerbow Story
It Started with a Piece of Paper...
The idea was born when Ulf Meijer bent a paper strip over the edge of his desk. The strip became an arch that he placed on the desk. He placed a small piece of paper underneath and directly realised that this would be an exciting way to create a room within the room, a new and exciting product for fairs, events and public spaces.
The bow had an expression and shape that stood in contrast with the angular signs and mechanical tents you often see at fairs and events. This arch had a new innovative style, almost organic. A shape that both invites and embraces you.
The concept became even stronger when Ulf found a way to construct the foot that could be turned into a bag that has room for the entire product.

Official Distributor
We are pleased to announce we are an official UK distributor of this latest innovation in portable marketing. We work with Bannerbow to supply you with this unique and fast-build, lightweight system. Bannerbow hardware is designed and built in Sweden, with stocks held at our office in UK where we produce all the fabric graphic panels for our customers.
Fabric Options
Printed in the UK, single or double sided options available, indoor and outdoor specific materials for your chosen stand. Outdoor materials are hard wearing and weather resistant, backdrops inlays are printed on indoor materials only but can handle light outdoor use with the correct hardware. Print your design with a double sided fabric option or single sided with fabric print show through.
Using the same arch design for all systems Bannerbow Event Arch Outdoor is designed for multi-use with weather proof graphics and a sturdy foot base. A black powder coated steel foot makes the arch stable.
The foot also has a bracket for attaching the canvas with a hook-and loop fastener, keeping the canvas tightly stretched and securely in place.
Outdoor event arch is extremely eye-catching, available in three sizes and can also be used indoors.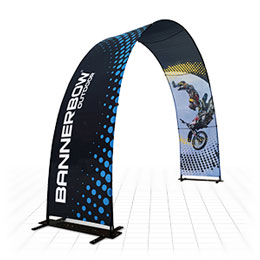 The neutral, lighter aluminium base has an exclusive feel and is available in two different colors Aluminium and Black.
Bannerbow event arches are easy to set up, without the need for any tools, ladders or other special equipment: you can set one up by yourself in just a few minutes.
Aluminium are Black bases are intended for indoor use and come in a sleek bag to store all the components.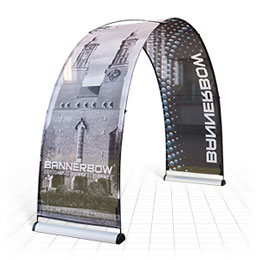 Designed to be used with the small frame to make a complete enclosed display, choose the correct frame depending on indoor or outdoor use.
Backdrop creates an eye-catching background, it creates the perfect set: a portable exhibition stand for multiple use occasions.
Add a Backdrop to your existing small event arch at a later date to expand your system or use as a stand-alone banner with the aluminium feet.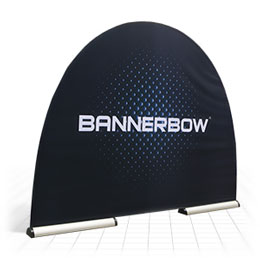 The following size configurations are available …
Size
Depth
Width
Height
Weight — single-sided graphic
Indoor
Outdoor
Small
103-110cm*
300cm
245cm
14.7kg
32.7kg
Medium
103-110cm*
400cm
320cm
15kg
33kg
Large
103-110cm*
500cm
375cm
15.3kg
33.3kg
Backdrop
—
300cm
245cm
14kg
32kg
* NOTE : Depth of 110cm refers to the extra depth on the Outdoor foot.
The following downloads are available …