Impact Original
Impact Original mid range pop up display system
---
Effortless Pop Up Displays !
Impact™ Original is the best selling display stand within the Mirage Display Impact™ range of pop up exhibition display stands. This is the most popular of our pop up displays, and is used by many of the UK's leading brands. Precision engineered magnetic fittings ensure the panels locate to the correct position on the frame. Impact™ Original will be a trusted tool for any exhibition, promotion or roadshow.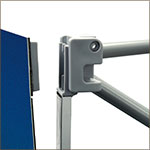 When you need to set up your exhibition display stands quickly and easily, without a fuss, Impact™ Original is the perfect solution. This pop up display stand will promote your brand again and again, and is durable enough to withstand a busy exhibition calendar or roadshow.
Seamless and easy display stands
Impact™ Original is a fully magnetic system designed to show a seamless graphic.
Designed for companies requiring high impact pop up display stands, Impact™ Original is available 2.67m wide (3x3) or 3.22m wide (4x3). Impact Original exhibition stands can be stored and transported in a range of wheeled cases, some of which can be converted into a podium.
Easy-lock Frame & 'Snap-on' Panels

The frame simply locks together upon opening, and our magnetic bars fit onto the frame in seconds. The graphic panels are pulled into place by the magnetic fittings giving you an unbroken image.
Flexibility Guaranteed
Impact™ Original framework comes with a lifetime guarantee, giving you full confidence that this Pop Up display system will give you years of service. Heavy duty folding magnetic bars makes set up and take down a breeze. Impact Original comes in three different widths and is available as a curved or straight frame. The frame comes with fittings as standard for graphic panels to be fitted to the rear of this pop up frame for a 360 degree exhibition display.
The following configurations are available…
| Configuration | Weight | Width | Height | Depth |
| --- | --- | --- | --- | --- |
| 4x3 curved | 31kg | 3.07m | 2.25m | 0.97m |
| 4x3 straight | 31kg | 3.50m | 2.25m | 0.32m |
| 3x3 curved | 25kg | 2.54m | 2.25m | 0.71m |
| 3x3 straight | 25kg | 2.75m | 2.25m | 0.32m |
| 2x3 curved | 18kg | 1.92m | 2.25m | 0.51m |
| 2x3 straight | 18kg | 1.97m | 2.25m | 0.32m |
---