Videos
| | |
| --- | --- |
| | This item weighs from 6.3kg |
| | Delivered in 5 working days |
| | Hardware has a lifetime guarantee |
| | This item takes 2 minutes to set up |
| | This item is a premium product |
| | This item is a bestseller |
New, innovative design features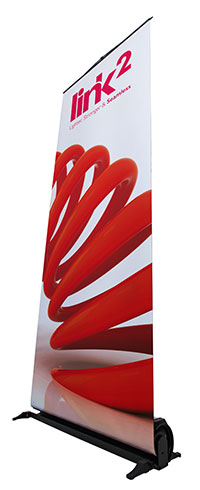 Link² is an impressive next generation banner stand, perfect for exhibitions and events. Finally a portable display stands where the user can instantly change graphic panels on-site, combined with the ability to link multiple stands together.
Change over graphic panels on-site
Link² has a patented, revolutionary graphic transfer system built into the base unit. Taking less than a minute to swap graphic panels, requiring no prior expertise. The patented graphic exchange system allows new panels to be fitted to the base unit at your office, or without worry at your event. No more sending display stands back to Mirage after every show to have new panels fitted, or the expense of having to buy extra cassettes. We send new panels direct to you, and these can be fitted on-site quickly, without any hassle.
Links together - straight or curved
Individual Link² banner stands are 85cm wide and 217.5cm high. Multiple Link² display stands can be joined together to form straight wide backdrops. Or add the 23.5cm flexi link panel to construct curves and wave shapes. A unique tension design ensures the graphics are always level regardless of the surface and the base design ensures that graphic panels are perfectly aligned so that overlapping text and images always line up across your design.
Eliminate banner stand tension issues
Even if the tension is released in the Link² base unit, it can be re-applied quickly and easily by the user. This means no more panels that won't roll back into a base unit, if the base unit suffers damage in transit.
Portable and light
A Link² roller banner only weighs 6.3kg with its graphic panel, ensuring that Link² is the ideal all-in-one display solution. Rather than purchasing multiple banner stands and pop up display stands, a Link² system with linking fittings makes your decision easy. Use individually as banners or link together straight or curved profiles, the lightweight Link² give you multiple easy to use options depending on the event.
Narrow footprint – perfect for shell schemes
The display stand base unit on the Link² is only 20cm deep. This offers a sleek reusable alternative to purchasing graphics that need to be fitted directly to the shell scheme walls. With multiple Link² banners that you can join together to create one seamless display stand, branding your shell scheme area with ease. This gives you the option for the stands to be reused at future shows, rather than having to purchase multiple sets of graphics to fit to varying sizes of shell scheme spaces.
Get an email quotation for Link2.
Link² with graphic panel
| Height | Width | Weight |
| --- | --- | --- |
| 2175mm | 850mm | 6.3kg |
Flexi link panel
| Height | Width | Weight |
| --- | --- | --- |
| 2160mm | 325mm | 1.3kg |
Similar Products