Exhibition Stands and Modular Display Stands
We have a wide selection of modular display systems that are specifically designed for or can be altered to use in small or large exhibiting spaces and events. With the modern exhibitor demanding stands to be more adaptable and multi-functional our range now includes a system for every conceivable budget and situation.
We have selected a quality range of systems that include many modern features and frame designs, as well as additional stand accessories allowing you to tailor your exhibition needs and purchase a system that will be a valuable long term investment.
We have arranged our systems are split into three sections; Self-Build, Advanced-Build and Pro-Build.
Self build as the name suggests are kits that one or two people can easily learn to use and build themselves and are extremely portable and easy to transport.
Advance build systems are more complex but still easy to build for teams with just a little experience, two to four people can quickly work together and create impressive structures with these versatile frames. You may even prefer to let us take care of the build with our own complete installation service that can be supplied with any system or one-off event requirement.
Pro build is our most impressive system and includes our complete design and installation service, based on the Linx frame to create architecturally stunning exhibition spaces. The complete installation and logistics team is a integral component to the Pro build service.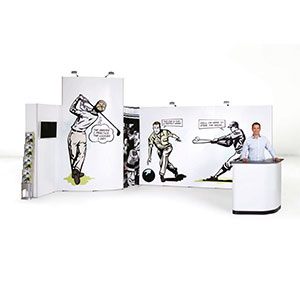 Portable self-build systems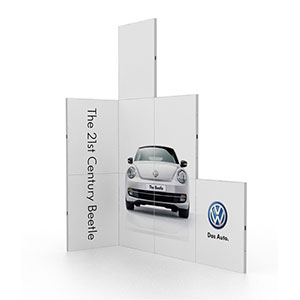 Create complex yet portable stands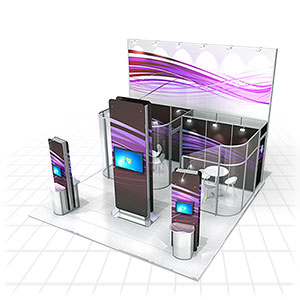 Stunning complete service system
Exhibition Stand Design
Whether you're looking to create your own extravagant modular exhibition stand with our T3 Modular system or purchase our Twist Modular stand for an easy to set up stand, we have a wide range of options available.
On the other hand, you may be considering our versatile gantry exhibition stand. With a whole host of options available, when it comes to modular exhibition stands, we know what works and how to transform your vision into a reality.
If our range of modular exhibition stands look to offer the perfect solution for you and your needs, why not give us a call or send through an enquiry and one of our team will be more than happy to chat with you. After discussing your requirements we can suggest the best system for your requirements and produce 3D drawings to illustrate. For modular exhibition stands, think Mirage Display!