Videos
| | |
| --- | --- |
| | This item weighs from 2kg |
| | Delivered in 7 working days |
| | Hardware has a 1 year guarantee |
| | This item takes 10 minutes to set up |
| | This item is a mid-range product |
The Street Flag is the latest product to advertise on the move. Add a message and stand out when distributing flyers in the high street, promoting events or directing people to your event stand. It's a great new way to get your message across at your next marketing promotion.   The sturdy and lightweight backpack will accept four different flag shapes, which are conveniently attached using the poles supplied.  
Features
Backpack made from coated nylon
One bag can be used with four different flag shapes
All poles and rods supplied with back pack
Reinforced straps and flag mounting system
Adjustable belt and comfortable padding
Mesh side pockets
Zipped compartment
Storage for poles and rods in back of bag when flag not being used
Optional full printing service available for flags
Get an email quotation for Street Flag.
Sizes for the Edge model…
Visual Area Approx : 771mm (h) x 487mm (w)
Weight (Backpack and flag): 2kgs
Flag only: 1kg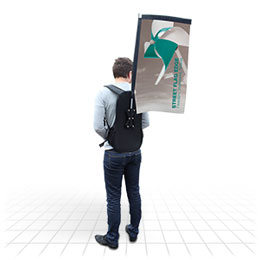 Sizes for the Feather model…
Visual Area Approx : 1200mm (h) x 430mm (w)
Weight (Backpack and flag): 2kgs
Flag only: 1kg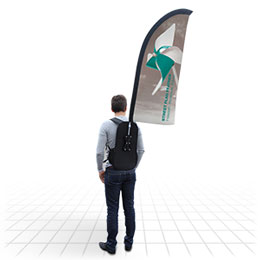 Sizes for the Quill model…
Visual Area Approx : 780mm (h) x 380mm (w)
Weight (Backpack and flag): 2kgs
Flag only: 1kg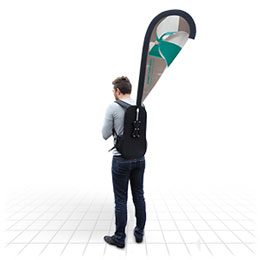 Sizes for the X-Banner model…
Visual Area Approx : 1200mm (h) x 500mm (w)
Weight (Backpack and flag): 2kgs
Flag only: 1kg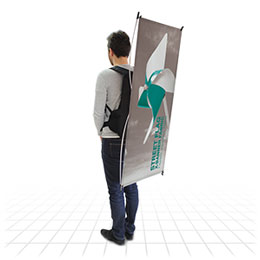 Similar Products