Podium Pro
Budget Counter With Pro Options
---
Now available in three profiles
Podium Pro has been a long time favoured portable podium with budget pricing and pro styling. Due to its popularity we have expanded the range to include two larger sizes with curved or rectangular profiles to accompany the medium Podium Pro. All with the same features, adaptability and ease of use at the price point you expect.
Professional design included as standard
The Podium Pro offers a sturdy, graceful look merged with exceedingly stable materials and a range of tabletop colours to suit all conditions. Coned wall materials with the curved structure makes a solid yet portable choice. With the option to print your own branding on the wrap graphic. Part of our budget range, you can add podium functionality to any show quickly and cost effectively.
Sizes for the Podium Pro Medium…
| Width | Height | Depth | Weight |
| --- | --- | --- | --- |
| 91cm | 93cm | 48cm | 15kg |
*Optional choice of tabletop finish - Black, Wood, White & Silver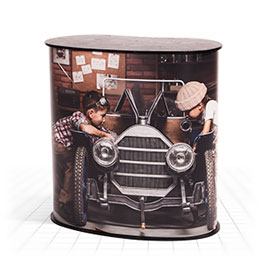 Sizes for the Podium Pro Large…
| Width | Height | Depth | Weight |
| --- | --- | --- | --- |
| 120cm | 93cm | 48cm | 17kg |
*Optional choice of tabletop finish - Black, Wood, White & Silver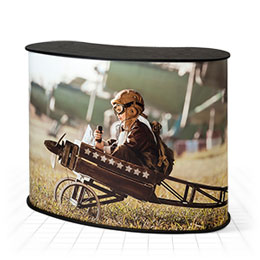 Sizes for the Podium Pro Rectangle…
| Width | Height | Depth | Weight |
| --- | --- | --- | --- |
| 100cm | 93cm | 40cm | 16kg |
*Tabletop finish Black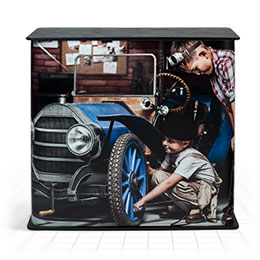 ---