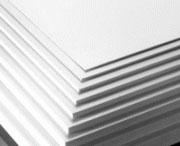 Rigid Marketing Display Panels
We can print and mount various print media onto foamex boards. This is a great way of creating rigid branding at your exhibitions and events. Foamex panels can be produced to create shell scheme exhibition displays, wall mounted panels or hanging point of sale promotions.
Choose Your Size
Foamex graphic panels are available in 2mm, 3mm or 5mm thickness and can be cut to shape, or pre drilled if required. We can supply foamex graphic panels with velcro strips if required, which is a simple method of attaching them to shell scheme walls at exhibition venues.
Get an email quotation for Foamex Panels.