Zipper Wall Straight
Tension Fabric Panel Frames
---
Strong design with seamless graphics
Zipper Fabric Straight Walls are a popular option in fabric stands, used in a variety of situations both for quick portable and more long term display solutions. A strong design and solid construction the seamless fabric graphic fits on like a glove. Used as office and exhibition space dividers or in retail for more permanent displays.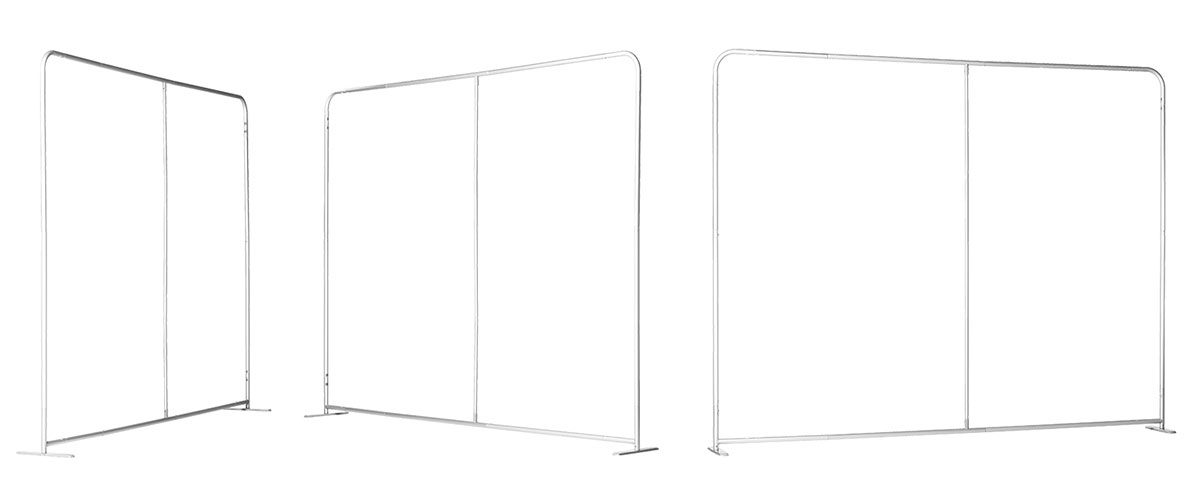 With easy and fast assembly that's manufactured from a strong aluminium tube 34mm in diameter, Zipper Straight Walls benefit from tool free build with connection corner that has a security clip, the frame is colour coded and labelled with matching symbols to make construction a breeze.
A size for any situation
With a amazing choice of 30 frame size options, five standard heights & multiple widths, you'll find a solution that perfectly fits your exhibition needs. You can even incorporate different size frames side by side to create interesting and simple displays that will fill a full exhibition space. Combined with light / easy to care for and transport fabric graphics that look great for years, you will have a set of frames to fit any occasion.
The following size configurations are available …
| Height | Width | Depth |
| --- | --- | --- |
| 1000mm | 1000mm | 450mm |
| " | 1500mm | 450mm |
| " | 2000mm | 450mm |
| " | 2500mm | 450mm |
| " | 3000mm | 450mm |
| " | 4000mm | 450mm |
| " | 5000mm | 450mm |
| " | 6000mm | 450mm |
| 1500mm | 1000mm | 450mm |
| " | 1500mm | 450mm |
| " | 2000mm | 450mm |
| " | 2500mm | 450mm |
| " | 3000mm | 450mm |
| " | 4000mm | 450mm |
| " | 5000mm | 450mm |
| " | 6000mm | 450mm |
| 2300mm | 1000mm | 450mm |
| " | 1500mm | 450mm |
| " | 2000mm | 450mm |
| " | 2500mm | 450mm |
| " | 3000mm | 450mm |
| " | 4000mm | 450mm |
| " | 5000mm | 450mm |
| " | 6000mm | 450mm |
| 2500mm | 1000mm | 450mm |
| " | 1500mm | 450mm |
| " | 2000mm | 450mm |
| 3000mm | 1000mm | 450mm |
| " | 1500mm | 450mm |
| " | 2000mm | 450mm |
---