Videos
| | |
| --- | --- |
| | This item weighs from 15kg |
| | Delivered in 5 working days |
| | Hardware has a 5 year guarantee |
| | This item takes from 20 minutes to set up |
| | This item is a premium product |
Centro is a professional display system designed to be used as a portable or semi permanent branded display. There are four options within the Centro display range, all available in a choice of three widths.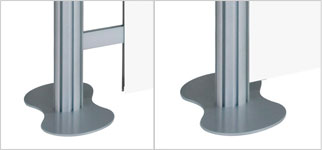 Centro2 (curved or straight) and Centro3 are available with our without spacer bars.

Customise your Centro Display with a choice of neon coloured acrylic top caps, and add accessories including screen fittings, brochure display, product shelving, iPad fittings and podiums.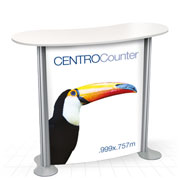 A freestanding matching Centro Counter is available with a pearl white laminated top, and branded graphic panel.
High impact graphic panels can be produced in either banner material (Centro1), rigid Foamex graphic panels or flexible roll up PVC graphic panels.
Features
Innovative adaptable display system
Contemporary neon acrylic caps
Unique, durable aluminium construction
Requiring only a single hex key for assembly
4mm hex key or power tool kit supplied
Shaped silver base plate to ensure stability
Overall height without lighting 2019mm
Quality assured - 5 year guarantee
Get an email quotation for Centro System.
The following size configurations are available …
| | Width | Height | Depth |
| --- | --- | --- | --- |
| Centro1 Straight 75cm | 1006mm | 2019mm | 380mm |
| Centro1 Straight 150cm | 1756mm | 2019mm | 380mm |
| Centro1 Straight 225cm | 1756mm | 2019mm | 380mm |
| Centro2 Straight 75cm | 1226mm | 2019mm | 380mm |
| Centro2 Straight 150cm | 1976mm | 2019mm | 380mm |
| Centro2 Straight 225cm | 2726mm | 2019mm | 380mm |
| Centro2 Curved 75cm | 1263mm | 2019mm | 378mm |
| Centro2 Curved 150cm | 2007mm | 2019mm | 393mm |
| Centro2 Curved 225cm | 2695mm | 2019mm | 567mm |
| Centro3 Straight 75cm | 1226mm | 2019mm | 380mm |
| Centro3 Straight 150cm | 2269mm | 2019mm | 380mm |
| Centro3 Straight 225cm | 3312mm | 2019mm | 380mm |
| Centro Wheeled Case | 520mm | 1130mm | 440mm |
| Title | File Size | Format | |
| --- | --- | --- | --- |
| Centro 1 Brochure | 1.06Mb | | |
| Centro 1 Artwork Spec Sheet | 573kb | | |
| Centro 1 Setup Guide | 1.22Mb | | |
| Centro 1 Template (750mm) | 22kb | | |
| Centro 1 Template (1500mm) | 22kb | | |
| Centro 1 Template (2250mm) | 22kb | | |
| Centro 2 Artwork Spec Sheet | 746kb | | |
| Centro 2 Curved Brochure | 1.30Mb | | |
| Centro 2 Straight Brochure | 1.33Mb | | |
| Centro 2 Template (750mm) | 14kb | | |
| Centro 2 Template (1500mm) | 14kb | | |
| Centro 2 Setup Guide | 1.06Mb | | |
| Centro 2 Template (2250mm) | 14kb | | |
| Centro 2 Spacer Bars Setup Guide | 1.04Mb | | |
| Centro 3 Brochure | 1.38Mb | | |
| Centro 3 Artwork Spec Sheet | 594kb | | |
| Centro 3 Setup Guide | 570kb | | |
| Centro 3 Spacer Bars Setup Guide | 612kb | | |
| Centro 3 Template (1500mm) | 15kb | | |
Similar Products