Round Plinth
Multi height and nested display
---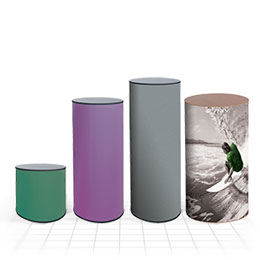 Single Plinths
Round display plinths are the ideal for product display and quick build podium requirements.
Printed graphic wraps display you message & brand from afar alternatively you can select plain nylon & quality tambour options. Available in a choice of two diameters and four heights.
---
Nested Multi Plinths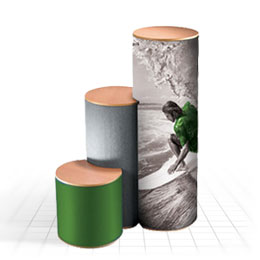 Nested multi-height circular display plinths are the latest addition to the podium range. Stylish construction allows a mix of graphic and nylon finish options.
The unique internal Twist & Lock pole system to creates a structure that strengthens the unit without the need for a tambour wrap, allowing graphic wraps to be applied directly.
The result creates a cleaner more professional finish, and an extremely light, portable option for multi height product display and presentations.
The following configurations are available…
Single Plinths (Assembled Sizes)
| Model | Height | Depth | Weight |
| --- | --- | --- | --- |
| P400 | 400mm | 400mm | 5.0kg |
| P800 | 800mm | 400mm | 6.0kg |
| P1000 | 1000mm | 600mm | 6.5kg |
| P1200 | 1200mm | 400mm | 7.0kg |
Nested (Assembled Sizes)
| Model | Height | Depth* | Weight |
| --- | --- | --- | --- |
| N400 | 400mm/800mm/1200mm | 400mm | 15kg |
| N600 | 1000mm/800mm/600mm | 600mm | 29kg |
| N750 | 1000mm/800mm/600mm | 750mm | 36kg |
*Diameter of individual tabletops (x3)
---