Videos
| | |
| --- | --- |
| | This item weighs from 10kg |
| | Delivered in 5 working days |
| | Hardware has a lifetime guarantee |
| | This item takes from 10 minute to set up |
| | This item is a premium product |
Banner or Modular? Why not both!
A truly flexible banner stand system you can use as individual banner stands which you can then link together to create a bendable display of any width. ISOframe Ripple is the perfect flexible choice for any exhibition or event.
Compact, lightweight and very easy to transport
Simple, tool-less assembly
Bend and flex to suit the venue
Adjust the display width to suit your requirements
All graphic panels are 800mm wide with the same fixings
All graphic panels can be used on a frame or as a flexi-link.
You can re-use and reconfigure the size and shape of the display for future events, and with media screen attachments, spotlights and a table available as accessories its flexible enough for all your future display needs.
Get an email quotation for ISOFrame Ripple.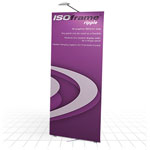 Sizes for Single Panel Units…
| Height | Width | Weight |
| --- | --- | --- |
| 2000mm | 800m | 9.8kg |
| 2200mm | 800m | 10.1kg |
All panels can be linked to create a bespoke system, system sizes displayed as example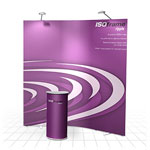 Sizes for the Three Panel Kit…
| Height | Width | Weight |
| --- | --- | --- |
| 2000mm | 2400m | 21.4kg |
| 2200mm | 2400m | 21.6kg |
All panels can be linked to create a bespoke system, system sizes displayed as example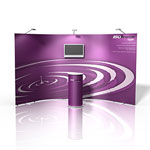 Sizes for the Five Panel Kit…
| Height | Width | Weight |
| --- | --- | --- |
| 2000mm | 4000m | 32.9kg |
| 2200mm | 4000m | 33.1kg |
All panels can be linked to create a bespoke system, system sizes displayed as example
Similar Products