Impress
Seamless & Optional Backlit Fabric Display
---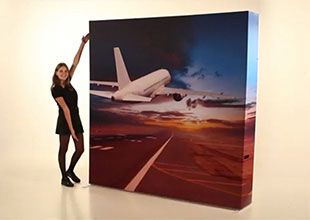 Fabric Stands - Impress
Innovative pop-up fabric stands, with silicon edge graphic fabric system, a unique design that offers you a sleek & quick build display. Impress is a smart choice for stylish backwalls, ideal for exhibition backdrops, photo shoots, or any retail environment.
Lighting options for all occasions
Optional internal backlit curtain of lights creates a visually bright backdrop that makes for better viewing in all lighting conditions. Non-backlit option uses the same frame, so light curtain can be added or removed as preferred. Combined this with the option to add LED or halogen frame lights that overlook the frame, your system will be seen in any situation.
Fantastically sharp fabric prints
Fabric SEG graphics hug the frame to create a tight, effective backdrop, combined with vibrant fabric prints that allow your stand to look great from all angles. The system consists of front and two side panels, with a option for a printed or plain rear panel for 360° coverage and visibility. Colourfast prints on standard fabric, or a lighter fabric option to allow LED light show-through.
Choice of sizes
Take advantage of 20-frame size to find a option for your custom display requirements. With a design that's easy to construct and transport with your included wheeled trolley. Impress offer a stunning fabric option that's light and adaptable for all event requirements.
Connectors to make advanced configurations
We have new connectors available for Impress which enables frames to be joined together at 90 degrees to create one display stand in an 'L' or 'U' shape. Bespoke exhibition stands can be created with an arch connector which can join two Impress stands together with an arch.
The following sizes are available …
3 Levels High (2.2m)
Model
Width
Height
1x3
77cm
224cm
2x3
151cm
224cm
3x3
224cm
224cm
4x3
298cm
224cm
5x3
371cm
371cm
6x3
444cm
224cm
7x3
517cm
224cm
8x3
591cm
224cm
4 Levels High (3m)
Model
Width
Height
1x4
77cm
298cm
2x4
151cm
298cm
3x4
224cm
298cm
4x4
298cm
298cm
5x4
371cm
371cm
6x4
444cm
298cm
7x4
517cm
298cm
8x4
591cm
298cm
5 Levels High (3.7m)
Model
Width
Height
1x5
77cm
371cm
2x5
151cm
371cm
3x5
224cm
371cm
4x5
298cm
371cm
---