Zipper Wall Curved
Tension Fabric Panel Frames
---
Strong design with seamless graphics
One of our most popular fabric options, Curved Zipper Fabric Stand boasts a lively shape combined with easy construction. Nine size options won't leave you short on solutions to fit a variety of retail displays. Zipper products by nature are sturdy and hard wearing with 34mm aluminium tubed frame that also are light and easy to position.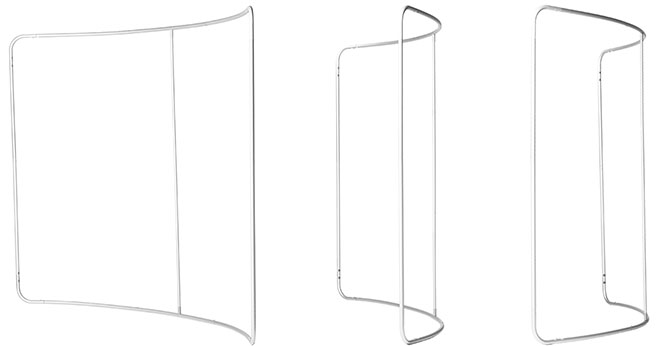 Simple and fast to build, Zipper Wall Curved is designed for tool free construction with connection corner with a security clip and the frame colour coded and labelled with matching symbols to make construction a breeze.
Graphics that can be printed single or double sided are washable & easy to fold and pack making long term care simple. All fits into the padded carry bag supplied for easy transportation. Zipper Curved Wall is your perfect partner when you need a large fabric display.
The following size configurations are available …
| Height | Width | Depth |
| --- | --- | --- |
| 1000mm | 3000mm | 600mm |
| " | 4000mm | 800mm |
| " | 5000mm | 1000mm |
| 1500mm | 3000mm | 600mm |
| " | 4000mm | 800mm |
| " | 5000mm | 1000mm |
| 2300mm | 3000mm | 600mm |
| " | 4000mm | 800mm |
| " | 5000mm | 1000mm |