Gazebo
Branded Gazebos range of sizes
---
Branded Gazebos for outdoor cover
Our exhibition gazebos are dual purpose outdoor displays perfect for shelter from the elements at outdoor events, and also fully branded to promote your brand and products. Printed on UV protected, weather proof material, our gazebo displays are a great tool to grab attention throughout the year.
Quick and Easy set up
Each of our gazebo products is designed to be set up by two people and come with full set up instructions. Printed high quality panels are velcro'd together and secured further with durable straps, to create a high impact outdoor display. Each gazebo comes in one wheeled carry bag which will fit into a large car or small van.
Range of configurations
We offer a standard and premium gazebo, with the main difference being the thickness of the aluminium frame. The premium gazebo is more suited to frequent use in strong weather conditions. We can produce both options in a 3x3m, 4.5x3m and 6x3m size. Each gazebo is available with single or double-sided panels, with options for side panels, front and rear panels and door enclosures. Giving you complete privacy and protection from the elements.
Secure Fittings
Each gazebo is supplied with guy ropes and ground pegs. We can also supply optional leg weights for windy conditions or for use on hard ground where ground pegs are not an option.
Stock colour walls, Canopy & Vallance Gazebo wraps
Save time and money with our range of interchangeable Vallance wraps, add your printed message to a quick to assemble wrap around printed graphic to allow your Gazebo to be updated quickly. We also offer stock walls in different colours allowing you to quickly and more cost effectively add sides to your Gazebo. Why not mix and match stock walls with your own printed design on one wall or more for a simple way to personalise a standard Gazebo.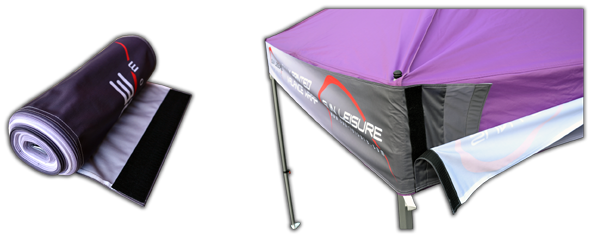 The following size configurations are available …
Model
Width
Depth
Height
Frame Weight

Edge of the Canopy

Top Apex

Standard
2m
2m

170cm to 200cm

303cm to 333cm

21kg
"
3m
3m
"
"
25kg
"
4.5m
3m
"
"
31kg
"
6m
3m
"
"
41kg
Premium
3m
3m
"
"
41kg
"
4m
3m
"
"
52kg
"
6m
3m
"
"
69kg
"
4m
4m
"
"
47kg
"
8m
4m
"
"
80kg
---