Zodiac Counter
High end podium with rigid graphic panels
---
Premium counter display
Our Zodiac Counters are premium robust counters designed to be portable, but can be used for long term use. Ideal for exhibitions, campaigns, promotions and product demonstrations.
These are quick and easy to set up, and pack away into a choice of cardboard box, carry bag or heavy duty case.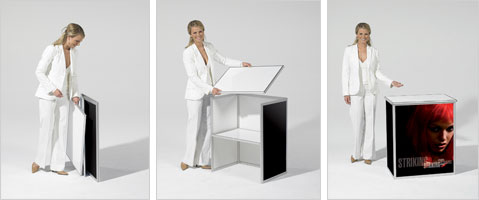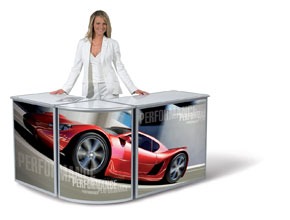 Zodiac Counters are available with printed graphic infill panels, or with plain white panels. We have options for internal shelving and lockable doors, for when storage and security are important factors in your display stand.
We have a wide range of sizes, although can produce in custom sizes where required. Join Zodiac Counters together to create bespoke counter displays.
The following size configurations are available …
| Model | Width (mm) | Depth (mm) | Height (mm) | Weight (kg) |
| --- | --- | --- | --- | --- |
| PC 1 L | 772 | 515 | 895 | 13 |
| PC 1 H | 772 | 515 | 1050 | 13.5 |
| PC 2 L  | 1070 | 515 | 895 | 16.5 |
| PC 2 H | 1070 | 515 | 1050 | 17 |
| PC 3 | 1070 | 515 | 895 | 21 |
| PC 4 L | 1072 | 515 | 895 | 15 |
| PC 4 H | 1072 | 515 | 1050 | 16 |
| PC 6 H | 515 | 515 | 1050 | 10 |
| PC 6 L | 515 | 515 | 895 | 10 |
| PC 9 H | 772 | 658 | 1050  | 15 |
| PC 9 L | 772 | 658 | 895 | 15 |
Title
File Size
Format
Brochure
1.33Mb

PDF

Spec Sheet
103kb

PDF

Templates


Archive of all the Zodiac Templates in various formats

6.96Mb

ZIP
---