PVC Banners
PVC outdoor banners with eyelets
---
Durable Branded Banners
Our popular PVC banners are a cost effective solution for outdoor marketing opportunities. Weather resistant and supplied with eyelets, these PVC Banners are a simple branding tool for your products and services.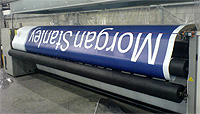 PVC Banners can be produced at virtually any size, with sturdy eyelets to fix these banners to buildings, railings or any suitable surface. Cable ties are normally used to fix the banners.
Produced in house with full design facilities available, we can turn these around quickly to meet the tightest of deadlines.
Ideal for outdoor events, our PVC banners will continue to represent your brand in the best possible light event after event.
When there is no suitable fixing surface please see our Outdoor Banner Frames, which incorporate PVC banners with eyelets.
---