Aero
Low cost modular display stand
---
Versatile Display System
An extremely versatile display system that can be used for exhibition spaces and retail displays. The system is totally flexible and can be reduced or extended with removable sections. We sell this display as a three panel kit or as individual retractable roller banners complete with posts with feet. If you want to replace the graphic panels at a later date we can supply with just the graphic cassettes so you don't have to purchase all the hardware again. The graphic panels retract into the roller mechanism for easy transportation. Aero components are made from Aluminium so are very light and come with a Nylon padded carry bag for ease of transport. The posts have fittings on top to accommodate Powerspot Halogen lights to floodlight your display.
5 Year Guarantee
An Aero roller banner system will last for years. The hardware is guaranteed for 5 years.
Height adjustable and available in 3 different widths
The Aero roller banners can be supplied with varying heights and widths. Widths available are 1000mm, 1500mm and 2000mm. The Aero posts can be set at three different graphic panel heights. The Aero banners can be joined together to make larger displays and can also be adjusted at 90 degrees to create a booth space or fit any rectangular shape. The roller banners can also be offset at an angle to create enticing displays to capture footfall attention.
Accessories
150 watt halogen lights are available to floodlight your display, they are available in black or silver with a 3m lead supplied with either UK or Euro plug.
2 light kits available that include 2 lights, carry case and 4 way extension cable.
New size and configuration additions to Aero allows for a much wider range of graphic positions. Eleven graphic heights can be achieved with the thoughtfully designed post. The horizontal cassettes are still available in three widths – 1000mm, 1500mm and 2000mm.
This image below shows that it's possible to create various graphic heights by either adjusting the post height or raising the bottom rail when the post is at its maximum height.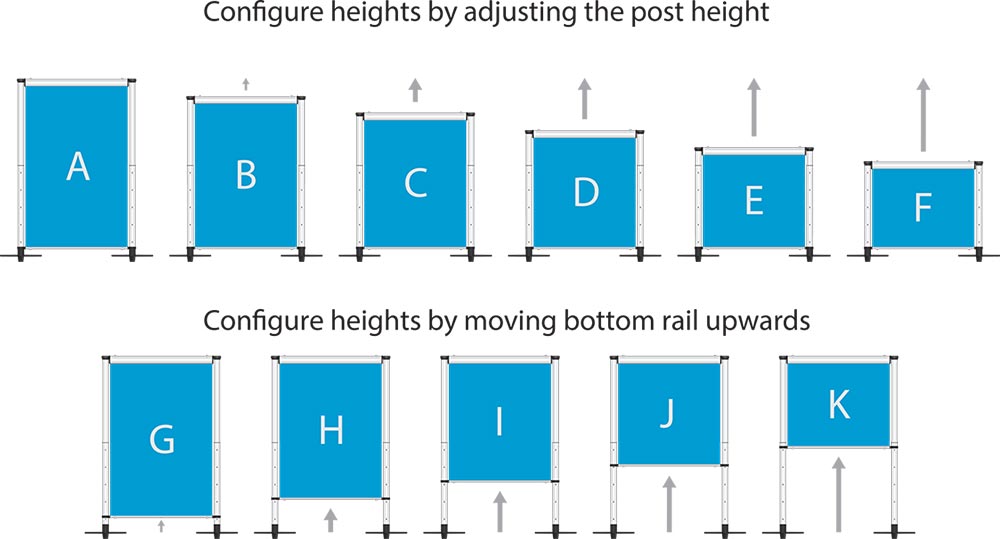 | Configuration | Visible Graphic Area |
| --- | --- |
| A | 1890 x 1000 / 1500 / 2000mm |
| B | 1690 x 1000 / 1500 / 2000mm |
| C | 1490 x 1000 / 1500 / 2000mm |
| D | 1290 x 1000 / 1500 / 2000mm |
| E | 1090 x 1000 / 1500 / 2000mm |
| F | 940 x 1000 / 1500 / 2000mm |
| H | 1790 x 1000 / 1500 / 2000mm |
| I | 1590 x 1000 / 1500 / 2000mm |
| J | 1390 x 1000 / 1500 / 2000mm |
| K | 990 x 1000 / 1500 / 2000mm |
---