Clever Frame
Limitless possibilities with connecting frames
---
A Smart Investment
We're excited to be able to introduce you to Clever Frame, the impressive multi-function exhibition system that's exciting exhibitors the world over with its clean design and almost endless, versatile configuration options.
Mirage Display will be a preferred Clever Frame supplier in the UK. Give your display the competitive edge with a stylish system you can easily design, build and grow your Clever Frame system years ahead of the competition.
Look great, adapt at your convenience and self-build with ease. Clever Frame, Clever Form, Clever Design.
Easy self-build, no tools required
Stylish visuals - Includes 3d visuals and plans
Huge range of quality modular stand accessories
Invest to impress - Clever Frame will adapt with your ideas for years to come
Clever Frame - Build and grow your own stand
Award winning design, the next generation of self-build systems. Inter-connecting aluminium frames can be configured into almost any form or structure. The system is so robust and simple to build (no tools required) you can be confident your initial outlay will last you years on the exhibition circuit.
Easily manipulate frames to different sizes and structures for different events, and update sections of graphics without having all panels replaced. The graphic panels, are secured by magnet to the face of the frames to give a stunning and near seamless single or double-sided graphic coverage.
Build exhibition stands and private booths, enhance your brand awareness with event scenery, backdrops and sponsor walls. Improve your work space by creating visually impressive reception areas and office dividers. Or produce impressive point-of-sale, promotional in-store solutions and information points. The configuration options really are endless...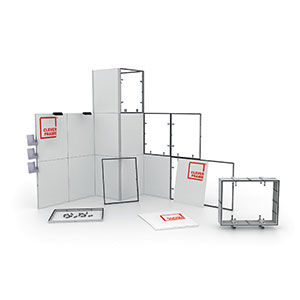 What is Clever Frame?
Building blocks for marketers. A system of reusable aluminium frames, able to connect with each other in any configuration.
Exchangeable panels and a huge range of accessories, the system is adjustable for all event situations.
Find out more about Clever Frame at our dedicated mini site...
View Mini-site
---