beMatrix
Hire large-scale Professional Exhibition Stands
---
Mirage Display are proud to offer the beMatrix exhibition system in the UK.
Exhibition displays are constantly evolving, beMatrix is a revolution in large scale exhibiting for smaller companies. Rather than forcing customers to purchase expensive systems to compete with the huge displays available, we give you the power to participate in this high end market on a budget, with an impressive system you don't need to buy outright.
The best solutions are usually the simplest. We provide you with a quality system that's one of the most innovative available, as and when you need it with our unique hire service. No more unrealistic budgets to compete with major players, your own outstanding exhibition is now within reach.
With beMatrix fully customised large scale stands, there is no limit to the options and scale you have to play with. Even if you need a quick off the shelf option, we can also help. Pre-designed stands offer the ultimate in cost effective large-scale displays you can hire for one off events.
We keep the equipment, you add the graphics.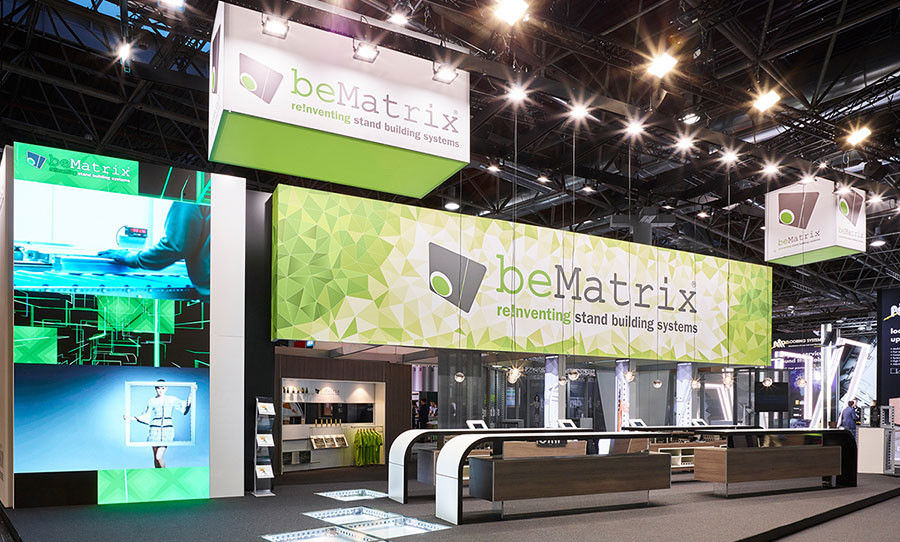 beMatrix is part of our Pro-Build family of products which includes or full logistic service, we handle all aspects of design, logistics and event day build, you concentrate on your show.
Find out more about beMatrix at our dedicated mini site...
View Mini-site