Counter iPad Display Stand
Counter top iPad display unit
---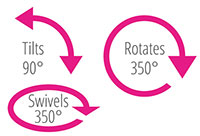 Our Counter Mount iPad display unit, can be fitted to most standard surface that can be drilled to fit the screw fixings. This mount can be used in conjunction with many of our portable counters. If purchased with one of our counters, we will pre-drill the holes for you, to make for simple set up.
Power cables can be run through the support arm of this display stand.
Looking for software for your iPad Display Stand?
Complete your iPad display stand stand with custom interactive software.
The following configurations are available…
| Model | Width | Depth | Height | Weight |
| --- | --- | --- | --- | --- |
| Portrait | 206mm | 95mm | 322mm | 3kg |
| Landscape | 294mm | 95mm | 277mm | 3kg |
---