| | |
| --- | --- |
| | This item takes 30 minutes to set up |
| | Delivered in 5 working days |
| | Hardware has a 5 year guarantee |
| | This item is a premium product |
Solid, stylish and functional exhibit display systems. Linear Pro has the looks and functionality of a custom built display stand, with all the benefits that a 'off the shelf' system can provide.
Minimal lead-time, solid construction, that allows the stand to be built and left on site for months if necessary. Combined with the portability and easy build you demand from any portable display.
The Linear range offers great value for such a system and is the ideal solution for tradeshows and semi permanent displays, great for shopping centers and exhibition venues.
All kits can accommodate optional lighting, LCD screen mounts, literature holders, product display shelves and molded carry cases.
The frame is constructed with extruded aluminum, including sturdy oval steel bases. Key-locking arms makes Linear strong, lightweight and easy to build.
Now available in six configurations, a quality look that perfectly complements any exhibit message comes as standard.
Features
Portable with full set up instructions
Anodised aluminium construction
75mm rounded modular posts
Accessories include literature holders, LCD mount and shelves
Additional optional accessories including spotlights, counters and carry case
Get an email quotation for Linear Pro Systems.
Features & Benefits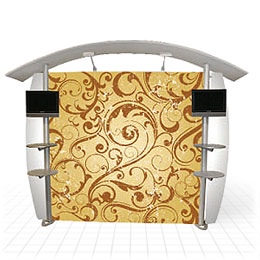 Overall assembled size (mm):
2475(h) × 3000(w) × 500mm(d)
LCD bracket: Max LCD size 20"
Graphic Size
2 graphic panels drops at 2000mm × 1000mm
Features & Benefits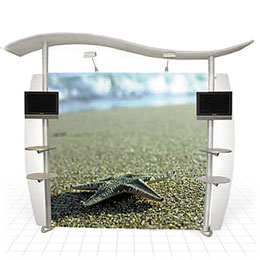 Overall assembled size (mm):
2475(h) × 3000(w) × 500mm(d)
LCD bracket: Max LCD size 20"
Graphic Size
2 graphic panels drops at 2000mm × 1000mm
Features & Benefits
Overall assembled size (mm):
2455(h) × 3000(w) × 765mm(d)
LCD bracket: Max LCD size 20"
Graphic Size
2 graphic panels drops at 2000mm × 1000mm
Features & Benefits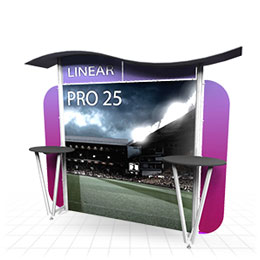 Overall assembled size (mm):
2455(h) × 3000(w) × 765mm(d)
LCD bracket: Max LCD size 20"
Graphic Size
2 graphic panels drops at 2000mm × 1000mm
Features & Benefits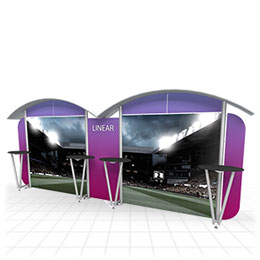 Overall assembled size (mm):
2455(h) × 6000(w) × 765mm(d)
LCD bracket: Max LCD size 20"
Graphic Size
4 graphic panels drops at 2000mm × 1000mm
Features & Benefits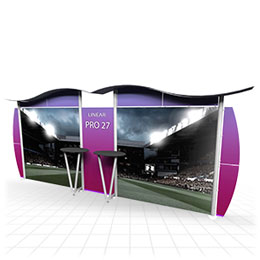 Overall assembled size (mm):
2455(h) × 6000(w) × 765mm(d)
LCD bracket: Max LCD size 20"
Graphic Size
4 graphic panels drops at 2000mm × 1000mm
Similar Products