Quickscreen
Quickscreen reliable mid range banner display stand
---
Tried and Tested
Our Quickscreen banner stands are our best selling mid range roller display stand. We have been selling the Quickscreen banner stand for over ten years, and are a favourite with many of our clients. Quickscreen roller banners are a tried and tested, cost effective display stand. The reliable roller mechanism will ensure that they last for many years.
Lifetime Guarantee
A Quickscreen display stand will ensure years of trouble free use. We still produce replacement graphic panels for clients who ordered previous Quickscreen stands, over ten years ago. Each Quickscreen base unit comes with a lifetime guarantee against product failure. The materials used in this mid range display stand will ensure trouble free use.
Wide Range of Sizes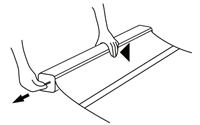 Quickscreen roller banner stands are available in a wide range of sizes. Quickscreen stands are available 85cm, 100cm or 120cm wide and 220cm high.
Quickscreen banners are now supplied with interchangeable graphic panels. Change panels quickly and easily, making the Quickscreen banner stand truly an environmentally friendly and reusable display system.
The following size configurations are available …
| Width | Height | Weight |
| --- | --- | --- |
| 85cm | 200cm | 5.4kg |
| 85cm | 220cm | 5.7kg |
| 100cm | 200cm | 6.0kg |
| 100cm | 220cm | 6.3kg |
| 120cm | 200cm | 7.0kg |
| 120cm | 220cm | 7.3kg |
---