ISOframe Counter
Bespoke Pro Counters
---
Variety and quality are standard
The ISOframe Counter compliments the professional build quality and standards set in the ISOframe modular range. With five different shapes, all available in different heights for a variety of uses you can't help but show your serious side. The superior build quality yet still portable nature makes this counter a winner, giving you years of reliable service.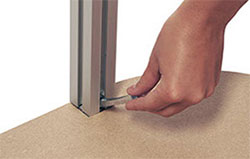 Easy too - free assembly with unique
FASTclamp
connector.
A portable tool free modular counter system
Ideal for use as either product podiums or work surfaces, due to there build quality and ISOframe construction they can take unusually high loads either on the surface or the optional shelf. Counters are available in a five main shapes and standard height options from 250mm to 1000mm.
Moves with you
Transport as a flat pack and assemble in seconds. Graphics can then be easily attached magnetically and stored safely. Each counter can be accessorised with a range of components such as shelves and doors for secure storage, or visual elements such as iPad holders.
The following size information is available…
| Shape | Height | Width | Depth | Weight |
| --- | --- | --- | --- | --- |
| Small Rectangle | 890mm | 800mm | 500mm | 15kg |
| Large Rectangle | 890mm | 1000mm | 500mm | 23kg |
| Circular Counter | 890mm | 650mm | 650mm | 13.9kg |
| Kidney Counter | 890mm | 1000mm | 650mm | 15kg |
* Other heights 250mm, 500mm, 750mm, 1000mm
---