Videos
| | |
| --- | --- |
| | This item weighs from 16kg |
| | Delivered in 7 working days |
| | Hardware has a 5 year guarantee |
| | This item takes 15 minutes to set up |
| | This item is a premium product |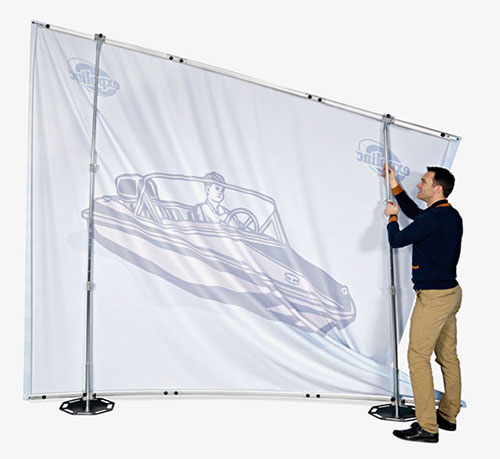 Create an impressive backwall to fit your needs
With Verso fabric walls you can make a great impact with a backwall at your own required size, shape and height. Choose between straight, inner and outer curves. Update the size and ad new graphics with a fully adjustable frame, re-use the hardware for years. The frame is easy to build and the fabric is attached at working height before being lifted.
Features and Benefits
Build upto 18m square walls with one system
Adjustable frame - Create bespoke shapes and heights
Easy tool free setup
Straight or curved profiles
Get an email quotation for Verso.
The following sizes are available…
| System | Maximum built width | Adjustable height |
| --- | --- | --- |
| 2 poles straight | 4.4m | 1m – 2.75m |
| 2 poles curved 15 degree | 3.3m | 1m – 2.75m |
| 3 poles curved 15 degree | 6.6m | 1m – 2.75m |
| 3 poles straight | 6.6m | 1m – 2.75m |
| 3 poles curved 90 degree + straight | 5.7m | 1m – 2.75m |
Similar Products