| | |
| --- | --- |
| | This item weighs from 6kg |
| | Delivered in 7 working days |
| | Hardware has a lifetime guarantee |
| | This item takes 1 minute to set up |
| | This item is a mid-range product |
Impact Fabric – The next generation of fast build fabric displays
Our ever-popular pop-up fabric display is now ever better. The fast set up high Impact Fabric stands is now available in four configurations. In less than a minute you can set up a graphic backdrop with a impressive overall display size.
The fabric graphic panel is fixed to the frame with strong industrial Velcro, even when the display is stored away in the carry bag. The frame locks together with magnetic fixings, which hold the graphic panel tight on the frame.
Hassle Free Display Stands!
Impact Fabric pop up displays are a perfect alternative to traditional paper paneled pop-up exhibition displays. Ideal for anyone who is concerned how heavy-handed use of traditional pop-up displays might limit graphic your panel life. As the fabric panel is already fixed to the frame there is no need for the user to touch the fabric panel during set up, therefore minimising chances of wear and tear through heavy usage.
Display Stands for every occasion…
Impact Fabric popup stands come with the option to add flat end panels which is the perfect way to finish off these fabric exhibition stands with a strong boxed look. Powerful halogen lights are available as optional accessories to finish the look.
Lightweight & Portable
Impact Fabric pop-up stands come in a durable padded trolley bag on wheels, which makes transportation a breeze. There is no need for separate magnetic bars, (which are essential for standard pop up displays) which keeps weight to a minimum. The perfect high impact display stand for those looking for lightweight, easy to build exhibition stands.
A different model for every occasion
Impact Fabric comes with or without fabric ends. The width is between two and five 'squares', the height is normally three squares, equal to 2.25 meters. Spotlights in different models can be ordered as accessories. If necessary, the structure can be equipped with extra stabilising feet.
Impact Fabric comes in a handy & practical nylon bag, so you won't have any worries with transportation.
Get an email quotation for Impact Fabric.
The following diagram shows the setup process…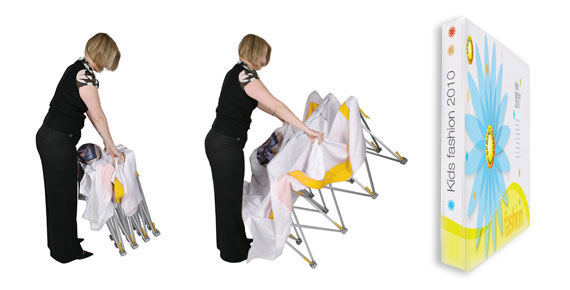 | Title | File Size | Format | |
| --- | --- | --- | --- |
| Spec Sheet | 306kb | | |
| Template (2x3) with end caps | 99kb | | |
| Template (2x3) without end caps | 93kb | | |
| Template (3x3) with end caps | 92kb | | |
| Template (3x3) without end caps | 88kb | | |
| Template (4x3) with end caps | 91kb | | |
| Template (4x3) without end caps | 84kb | | |
| Template (5x3) with end caps | 88kb | | |
| Template (5x3) without end caps | 84kb | | |
| Configuration | Weight | Height | Width | Depth |
| --- | --- | --- | --- | --- |
| 3 x 2 Straight | 5.75kg | 2260mm | 1525mm | 295mm |
| 3 x 3 Straight | 7.75kg | 2260mm | 2260mm | 295mm |
| 3 x 4 Straight | 10.25kg | 2260mm | 2995mm | 295mm |
| 3 x 5 Straight | 12.75kg | 2260mm | 3730mm | 295mm |
Similar Products