Videos
| | |
| --- | --- |
| | This item weighs from 6kg |
| | Delivered in 5-7 working days |
| | Hardware has a 5 year guarantee |
| | This item takes 15 minutes to set up |
| | This item is a premium product |
| | This item is a bestseller |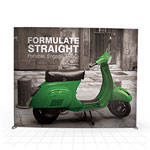 Right Angle Top Corner
The Right Angled Top Formulate walls look spectacular with broad lines and a large visual graphic area. The system is available in one commanding size with a aluminium structure that's easy to assemble, with fabric double-sided graphics that fit snugly around the frame.
Create a 3D effect
Formulate Right Angle Top Corner has three optional 'ladders' that can be used to create stunning 3D frame effects, let your creativity go wild! Available to the range are Curved Ladder, Angled and Trapezium, all fit snugly to the front of the Right Angle frame giving your display a truly unique added dimension.
| | | |
| --- | --- | --- |
| | | |
| Angled | Curved Ladder | Trapezium |
---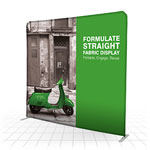 Curved Top Corners
The Curved Top Corner Formulate fabric display makes an ideal back wall or dividing wall, giving an attractive and dynamic exhibition area. Curved Top Corner with its large double-sided print area provides ample space for messages to be showcased. As with all the formulate range the structure can be quickly built and is a incredibly portable exhibition companion.
---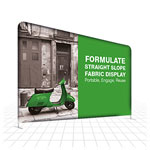 Straight Slope
The Straight Slope Formulate fabric displays are also perfect for dividing event space or creating fabric back walls. With the added dimension of a tapering slope that sweeps gently across the frame, adding an angular dimension to your display. Straight slope with double-sided bold graphics is very versatile and reusable across multiple displays. Simply order a new graphic to update and use the same structure to create new display wall options.
---
Features and Benefits
Double sided fabric display
Simple and easy to assemble
Constructed from durable 32mm aluminium tubing
Components clearly labeled for easy assembly
Collapses and stored into a fabric carry bag
Easy care washable fabric graphics
Tool free construction
Easy 'sock like' fit graphic with zip fastening
Get an email quotation for Formulate Straight Walls.
The following size configurations are available …
| Width | Height | Depth | Weight |
| --- | --- | --- | --- |
| 2900mm | 2340mm | 350mm | 8.48kg |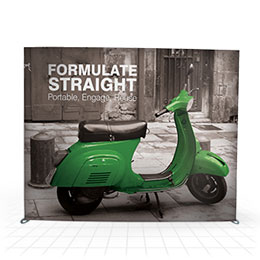 The following size configurations are available …
| Width | Height | Depth | Weight |
| --- | --- | --- | --- |
| 2438mm | 2280mm | 480mm | 6kg |
| 3048mm | 2280mm | 480mm | 7.5kg |
| 6096mm | 2280mm | 480mm | 11kg |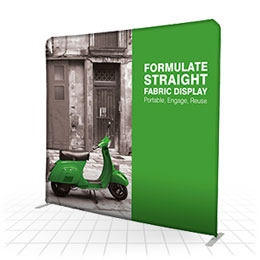 The following size configurations are available …
| Width | Height | Depth | Weight |
| --- | --- | --- | --- |
| 3048mm | 1830mm to 2280mm | 480mm | 7.5kg |
| 6096mm | 1830mm to 2280mm | 480mm | 10kg |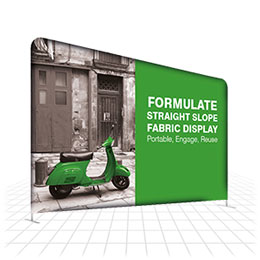 Similar Products