Formulate Hanging Banners
Videos
| | |
| --- | --- |
| | This item weighs from 10kg |
| | Delivered in 7 working days |
| | Hardware has a 5 year guarantee |
| | This item takes 15 minutes to set up |
| | This item is a mid-range product |
Fanfare your message
With seven very different shapes for a variety of uses you will always command attention from above. A Formulate Hanging Banner available in a wide variety of sizes will guarantee you add even more impact to your name.
Available in seven mesmerizing profiles

Features and Benefits
Tool free assembly
Printable double sided fabric for all models
Easy fit graphic socks with zip fastening
Supplied with hanging loops to suspend from ceiling
Get an email quotation for Formulate Hanging Banners.
The following size configurations are available …
| Height | Width | Depth | Weight |
| --- | --- | --- | --- |
| 1219mm | 3048mm | 838m | 17kg |
| 1524mm | 3658mm | 991mm | 20.15kg |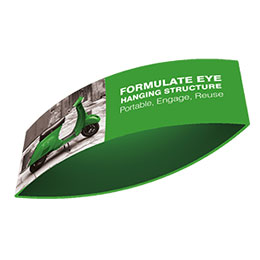 The following size configurations are available …
| Height | Width | Depth | Weight |
| --- | --- | --- | --- |
| 1067mm | 2438mm | 2438m | 19kg |
| 1219mm | 3048mm | 3048mm | 23.5kg |
| 1219mm | 4877mm | 4877mm | 25kg |
| 1219mm | 6096mm | 6096mm | 29kg |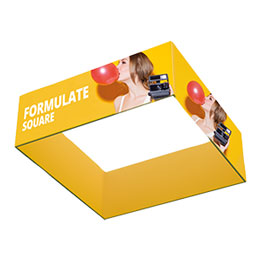 The following size configurations are available …
| Height | Width* | Weight |
| --- | --- | --- |
| 1067mm | 4267mm | 17.5kg |
| 1067mm | 6096mm | 22.6kg |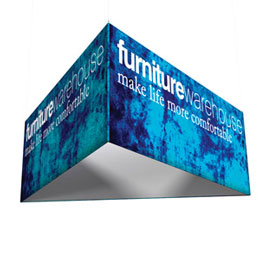 * Refers to the width of each side of the triangle structure
The following size configurations are available …
| Height | Width | Weight |
| --- | --- | --- |
| 0.8m | 1.5m | 8.5kg |
| 0.6m | 3m | 11.75kg |
| 0.9m | 3m | 12.5kg |
| 1.5m | 4.6m | 18.5kg |
| 1.2m | 6.1m | 38.5kg |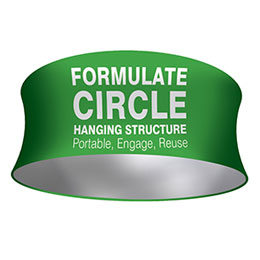 The following size configurations are available …
| Height | Diameter | Weight |
| --- | --- | --- |
| 1067mm | 3048-2438mm | 15kg |
| 1219mm | 4267-3658mm | 18kg |
| 1219mm | 4572-3962mm | 19kg |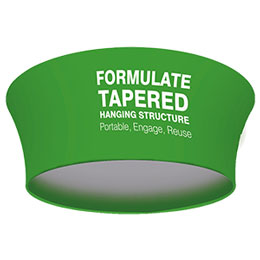 The following size configurations are available …
| Height | Width | Depth | Weight |
| --- | --- | --- | --- |
| 1219mm | 3658mm | 2438mm | 16.5kg |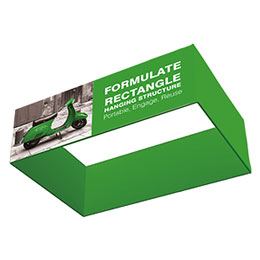 The following size configurations are available …
| Height | Width* | Depth | Weight |
| --- | --- | --- | --- |
| 914mm | 3048mm | 3048mm | 14.5kg |
| 1524mm | 4267mm | 4267mm | 19kg |
| 1524mm | 4877mm | 4877mm | 20kg |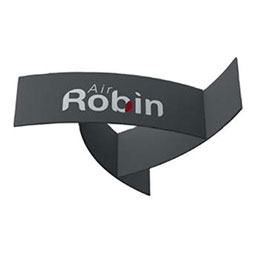 * Refers to the width of each side of the Triplet structure
| Title | File Size | Format | |
| --- | --- | --- | --- |
| Setup Instructions (Circle) | 562kb | | |
| Templates (Circle) | 1.81Mb | | |
| Setup Instructions (Eye) | 1.35Mb | | |
| Templates (Eye) | 747kb | | |
| Templates (Rectangle) | 385kb | | |
| Setup Instructions (Square) | 2.42Mb | | |
| Templates (Square) | 1.46Mb | | |
| Setup Instructions (Tapered) | 4.23Mb | | |
| Templates (Tapered) | 470kb | | |
| Setup Instructions (Triangle) | 1.63Mb | | |
| Templates (Triangle) | 743kb | | |
| Setup Instructions (Triplet) | 174kb | | |
| Templates (Triplet) | 63kb | | |
Similar Products