Formulate Fabric Counters
Videos
| | |
| --- | --- |
| | This item weighs from 9kg |
| | Delivered in 7 working days |
| | Hardware has a 5 year guarantee |
| | This item takes 5 minutes to set up |
| | This item is a mid-range product |
Constructed on the successful Formulate range (link back to formulate main products page) of lightweight & strong fabric display systems. We now complement the range with fabric counters that complete the look. Seamless graphics that are light, easy to handle and washable, combined with a five-year guarantee, your front counter will create outstanding first impressions for years to come.
Shapes and options to suit
Three shapes available for a original look and feel. Oval Counters are ideal for reception points at events or product promotional stands, supporting an optional top external shelf system that's strong and stylish to showcase products. Alternatively the more traditional Rectangle Counter, that's available in two widths, provides a commanding reception focus, all models can accommodate optional internal shelving.
With the ability to take a maximum load of 50kg (distributed across the surface), the strong tubular frame and the 360° fabric graphic wrap is a smart choice when combined with any other Formulate system or stand alone with your existing non-fabric modular stand.
Formulate counter will be greeting your clients for years to come.
Get an email quotation for Formulate Fabric Counters.
| Height | Width | Depth | Weight |
| --- | --- | --- | --- |
| 1015mm | 595mm | 395mm | 9kg |
With shelving (6mm frosted acrylic):
Height
Width
Depth
Weight
1980mm
595mm
395mm
14kg
Maximum load: 50kg, evenly distributed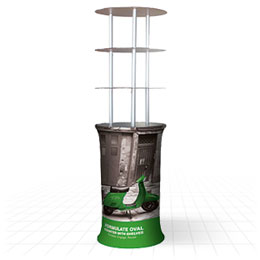 | Height | Width | Depth | Weight |
| --- | --- | --- | --- |
| 1015mm | 800mm | 530mm | 16kg |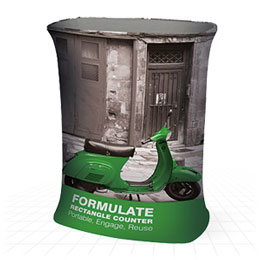 | Height | Width | Depth | Weight |
| --- | --- | --- | --- |
| 1015mm | 1880mm | 520mm | 30kg |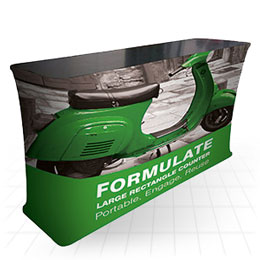 Similar Products