Videos
| | |
| --- | --- |
| | This item weighs from 5kg |
| | Delivered in 5-7 working days |
| | Hardware has a 5 year guarantee |
| | This item takes 15 minutes to set up |
| | This item is a premium product |
| | This item is a bestseller |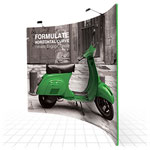 Curved wall
Sweeping lines and a large visual graphic area create a back wall that looks spectacular from all angles. Formulate walls are double sided and built around the secure aluminium structure that's easy to assemble with fabric graphics that fit snugly around the frame, an inspiring alternative to a Straight Fabric Display.
---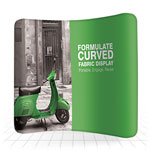 Curved Ended Wall
Formulate fabric walls with curved ends are one of the most popular curved fabric walls within the range. Ease of use, lightweight and portability come as standard, the playful curved end shape is a welcome addition to the range, available in three sizes.
---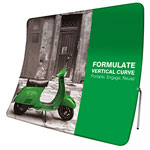 Vertical Curve
A strong shape added to the range of portable fabric display options. The Vertical Curve has a concave structure, which rests on two aluminium legs, giving the stand stability and strong brand delivery with its shield like form.
---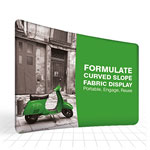 Curved Slope
Creating a sophisticated back wall, Curved Slope recedes gently from the tall to the short side with a delicate sweeping curve. Curved Slope creates an perfect dividing wall with an elegant organic shape.
---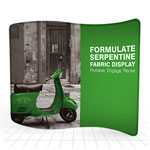 Serpentine
Formulate Serpentine creates a stunning back wall with undulating fabric curves, designed to display eye-catching fabric graphics at their best. With a shape that's wave like resulting in a subtle backdrop that's easy on the eye. Formulate reliability and design makes it another curved success.
---
Serpentine Slope
Formulate Serpentine slope creates a stunning back with undulating fabric curves, with a gentle slope to display eye-catching fabric graphics. Ideal for dividing walls that look and feel dramatic yet robust.
---
Features and Benefits
Double sided fabric display
Simple and easy to assemble
Constructed from durable 32mm aluminium tubing
Components clearly labeled for easy assembly
Collapses and stored into a fabric carry bag
Easy care washable fabric graphics
Tool free construction
Easy 'sock like' fit graphic with zip fastening
Get an email quotation for Formulate Curved Walls.
Sizes for the Formulate Curved Wall model…
| Width | Height | Depth | Weight |
| --- | --- | --- | --- |
| 2845mm | 2340mm | 600mm | 6.57kg |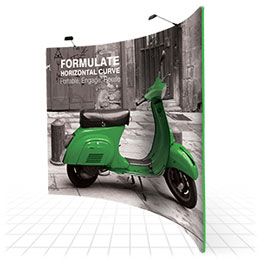 Sizes for the Formulate Curved Slope model…
| Width | Height | Depth | Weight |
| --- | --- | --- | --- |
| 3048mm | 1830mm to 2280mm | 538mm | 5kg |
| 6096mm | 1830mm to 2280mm | 700mm | 10kg |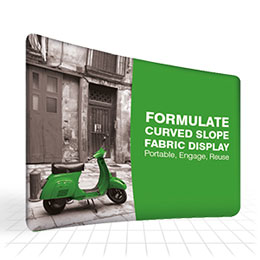 Sizes for the Formulate Curved Ended Wall model…
| Width | Height | Depth | Weight |
| --- | --- | --- | --- |
| 2438mm | 2280mm | 420mm | 4.75kg |
| 3048mm | 2280mm | 538mm | 5.25kg |
| 6096mm | 2280mm | 700mm | 7.5kg |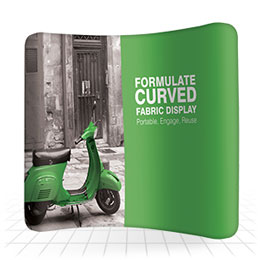 Sizes for the Formulate Vertical Curve model…
| Width | Height | Depth | Weight |
| --- | --- | --- | --- |
| 3048mm | 2280mm | 583mm | 9kg |
| 6096mm | 2280mm | 583mm | 16kg |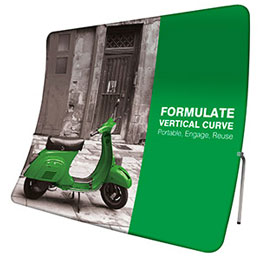 Sizes for the Formulate Serpentine model…
| Width | Height | Depth | Weight |
| --- | --- | --- | --- |
| 2438mm | 2280mm | 420mm | 5kg |
| 3048mm | 2280mm | 444mm | 6kg |
| 6096mm | 2280mm | 583mm | 8kg |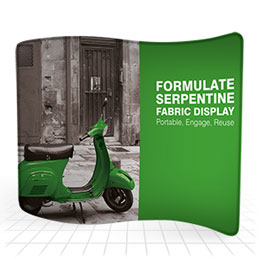 Sizes for the Formulate Serpentine Slope model…
| Width | Height | Depth | Weight |
| --- | --- | --- | --- |
| 3048mm | 2280-1830mm | 444mm | 6kg |
| 6096mm | 2280-1830mm | 830mm | 8kg |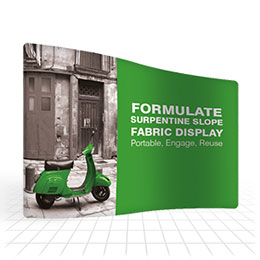 | Title | File Size | Format | |
| --- | --- | --- | --- |
| Curved Ended Wall Spec Sheet | 333kb | | |
| Curved Ended Wall Setup Guide | 212kb | | |
| Curved Ended Wall Template (2.4m) | 122kb | | |
| Curved Ended Wall Template (3m) | 121kb | | |
| Curved Ended Wall Template (6.1m) | 127kb | | |
| Curved Slope Spec Sheet | 194kb | | |
| Curved Slope Template (3m) | 413kb | | |
| Curved Slope Template (6.1m) | 407kb | | |
| Curved Wall Spec Sheet | 165kb | | |
| Curved Wall Setup Guide | 198kb | | |
| Curved Wall Template | 289kb | | |
| Serpentine Spec Sheet | 180kb | | |
| Serpentine Setup | 226kb | | |
| Serpentine Template (2.4m) | 122kb | | |
| Serpentine Template (3m) | 119kb | | |
| Serpentine Template (6.1m) | 116kb | | |
| Serpentine Slope Spec Sheet | 200kb | | |
| Serpentine Slope Setup | 174kb | | |
| Serpentine Slope Template (3m) | 391kb | | |
| Serpentine Slope Template (6.1m) | 387kb | | |
| Vertical Curve Spec Sheet | 458kb | | |
| Vertical Curve Setup | 190kb | | |
| Vertical Curve Template (3m) | 121kb | | |
| Vertical Curve Template (6m) | 118kb | | |
Similar Products