Videos
| | |
| --- | --- |
| | This item weighs from 12kg |
| | Delivered in 5-7 working days |
| | Hardware has a 5 year guarantee |
| | This item takes 20 minutes to set up |
| | This item is a premium product |
Mark an entrance with the Formulate range of fabric arches, three amazing configurations to really add a wow factor at any event or retail space.
Starting with the 2.7m model, the smallest in the family but by no means the least impressive. Sturdy wide base and fabric valance for extra information branding, the 2.7m Arch has ample space for innovative artwork.
The 6m Arch is the ideal structure to use in large retail spaces and exhibition events. With a total height of around 4m and a huge 6m surface to print on wont fail to be seen, near or far!
If you really want a structure to be remembered long after the event, the 6m Triple Arch is a huge stand comprising of three 6m wide arches joined in a unique rib configuration. Both eye catching and easy to build for its size and scale. This is an exhibition stand which never fails to impress.
All models are made with the same Formulate 32mm aluminium tube frame system, which is incredibly light and easy to construct. Simply construct the frame and slip over the extra durable, stretchy graphics to create your stand. Incorporate the Formulate Universal Accessories, to add shelves, literature holders even iPad holders to your stand. Embrace the full Formulate range to add complimenting fabric stands.
Get an email quotation for Formulate Arches.
Sizes for the Formulate Arches 2.7m model…
Height : 2300mm
Width : 2700mm
Depth : 1000mm
Weight : 12kg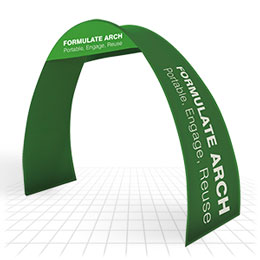 Sizes for the Formulate Arches 6m model…
Height : 3975mm
Width : 6000mm
Depth : 1000mm
Weight : 25.5kg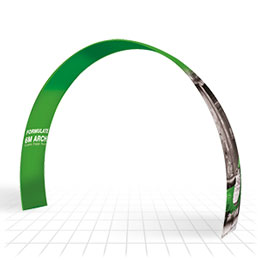 Sizes for the Formulate Arches 6m Triple model…
Height : 3975mm
Width : 6000mm
Depth : 5000mm
Weight : 82kg