Videos
| | |
| --- | --- |
| | This item weighs from 6kg |
| | Delivered in 10-15 working days |
| | This item takes 10 minutes to set up |
| | This item is a premium product |
Inflate your ideas!
The latest Inflatable printed shape system that is easy to carry & transport. Pop inflatables are produced with bright, bold & eye-catching designs. If you can visualise it we can make it happen! Ensuring your brand message will never be lost, in any crowd.
Made with Polyester - environmentally sound recyclable fabric
Inflatable cans range from 5.5kg; 8 times lighter than PVC inflatables
Modern fabric printed technology for eye-catching lifelike branding
Coated fabrics give more durability (low air loss and waterproof)
Portable, light and transports easily
Low energy wind blower required due to the strong but light fabric
One person transfer and setup
Fire resistance certified
Get an email quotation for Pop Inflatable.
The following size configurations are available …
| Popular Shapes | Height (Max) | Depth | Weight |
| --- | --- | --- | --- |
| Buddy Bottle | 4.85m | 1.34m | 7.6kg |
| Beer Bottle | 4.6m | 1.37m | 8kg |
| Can | 3m | 1.5m | 5.5kg |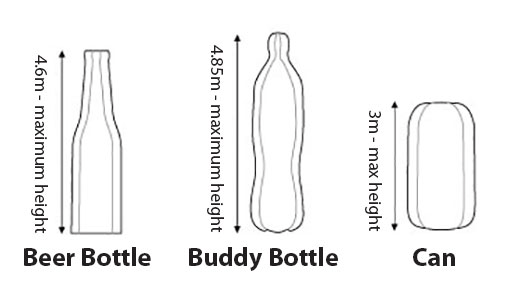 Similar Products