FlagStand XL
Extra-large flag banner for outdoor use
---
Extra large - Extra stable
FlagStand XL is a strong and portable outdoor display stand. It has a telescopic flag pole, which enables it to be used at any height up to 5.5 m. FlagStand XL has a simple construction with very few loose parts simplifies transportation and makes the product fast to assemble. FlagStand XL comes in two designs:
Foot with water bags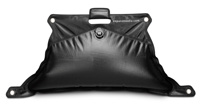 This version is easy to transport as the complete product fits into one carry bag. Once in place, the strong water bags are filled with water, making the flag stand very stable even in strong winds.
Foot with iron cast weights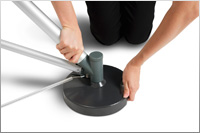 With four weight bars easily pushed into place, you have everything you need for a stable and secure flag stand. The weight bars are equipped with handles for simple transportation.
FlagStand XL is perfect for brand building at events, sales activities and campaigns in all kinds of outdoor environments. All product materials are carefully selected to endure long outdoor use. The flag stand can be used on almost all surfaces, such as sand, snow, asphalt and grass. It is delivered in a bag for easy transportation.
This outdoor display stand can be produced in 5-7 working days from receipt of artwork. The fabric panel is produced in UK.
---