Vector Modular
Professional modular system made easy
---
Pro fabric stands system, impressive modular solutions
Each Vector display stand is custom designed with your personal requirements in mind, giving you the professional edge in the exhibition circuit. It all starts with you, take inspiration from our Vector Brochure, (Link) and then you can consult with us for a free no obligation design service, that will give you stunning 3D visuals to fully realise your ideas and plan your display in every minute detail.
The art of communication - Vector
With a choice of eight frame profiles you have a complete frame system that can meet the demands of the most impressive structures and shapes imaginable to any modular display system. Impressive shapes that are designed to be free standing and secure can include double sided graphics, storage areas with secure locked doors, large towers, backlit options, screen fittings built into the frame and complex shelving for products or printed literature, as well as as arches to enhance the stand and create depth to the structure. These are just some of the benefits of Vector Modular. Specifically designed for Fabric Seamless Graphics, which produces stunningly beautiful stands that are easy to care for and look great for many years.
Vector Modules
Modules offer you versatile designs for your Vector stand that can adapt and grow to any future event. Giving you freedom to redevelop you stand well into the future. Vector Modules provide a great starting point to plan & expand your stand from and give you the confidence you have a system that grows with your business, with lifetime hardware support it's the perfect long-term investment.

Go from a stand 3m² to a stand 15m² in the blink of an eye!
See module sections and stand examples
Mirage Display - Pro service
The Mirage Display Professional Modular Service is our complete large-scale exhibition facility. As well as design and lifetime hardware support we will test and build your stand prior to every event at our own production facility to ensure there are no problems on the day, we would encourage you to check out the system with us or we can video the completed stand in your absence.
Our team will then pack the stand and deliver it to your event, our years of experience will ensure a stress free event day as we will deliver to any exhibition space or show across the country or within the EU, we are fully experienced to handle a range of event requirements and will build and dismantle as per the exhibition space requirements. Finally we offer long-term secure storage, we can store and repair onsite giving you complete piece of mind. Vector Pro Modular gives you the confidence to tackle any largescale event. We're with you every step of the way.
---
Example Vector Modular Stands
---
Vector Modular Component Modules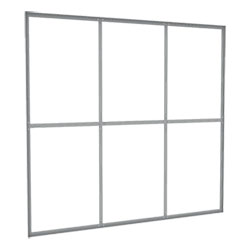 Module A
Standard channel on four sides
Vector to Vector fixings included
| Model | Height (mm) | Width (mm) |
| --- | --- | --- |
| 3m Module | 2500 | 2950 |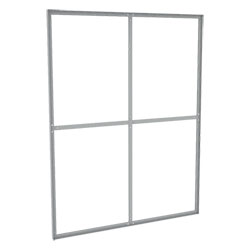 Module B
Standard channel on four sides
Vector to Vector fixings included
| Model | Height (mm) | Width (mm) |
| --- | --- | --- |
| 2m Module | 2500 | 1950 |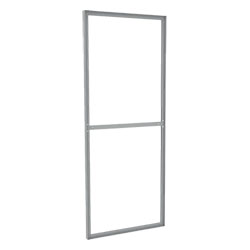 Module C
Standard channel on four sides
Vector to Vector fixings included
| Model | Height (mm) | Width (mm) |
| --- | --- | --- |
| 1m Module | 2500 | 950 |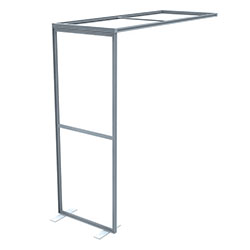 Module D
Modular arch
Two junction profiles 950mm included
Beam Attachment Included
Flat Feet (LN155) included
Double-sided profile
Possibility of adding recessed spotlights and a screen holder
| Model | Height (mm) | Width (mm) | Depth (mm) |
| --- | --- | --- | --- |
| Arch Roof | 2500 | 950 | |
| Arch Inside | 2500 | 950 | |
| Arch Outside | 2550 | 950 | 2600 |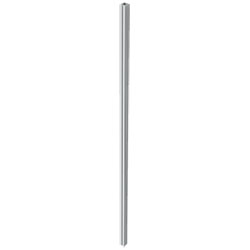 Used to connect two frames at right angles
Module E
Post in two parts of 1250 mm
| Model | Height (mm) | Width (mm) |
| --- | --- | --- |
| Square Beam | 2500 | 50 |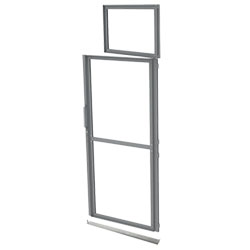 Ideal for creating return configurations
Module F
Door with threshold bar
Lock with keys
| Model | Height (mm) | Width (mm) |
| --- | --- | --- |
| Door Pediment | 545 | 950 |
| Door | 1940 | 942 |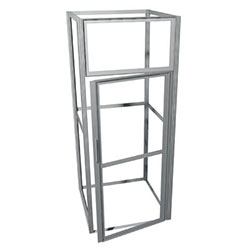 Module G
Corner storage with lockable door
Two visible faces
Standard channel on four sides
Create a taller storage area with the addition of module K
Vector and Vector Beam Attachments Included
| Model | Height (mm) | Width (mm) | Depth (mm) |
| --- | --- | --- | --- |
| Return | 2500 | 950 | 950 |
| Return Inside | 545 | 950 | |
| Return Door | 1940 | 942 | |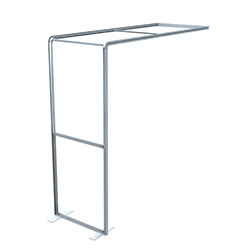 Full graphic surround
Module H
Full graphic arch
Double-sided dressing
Possibility of adding recessed spotlights under the overhanging canopy
Ability to add a TV stand on the front panel
Flat Feet (LN155) included
| Model | Height (mm) | Width (mm) | Depth (mm) |
| --- | --- | --- | --- |
| Rounded Arch | 2550 | 950 | 2600 |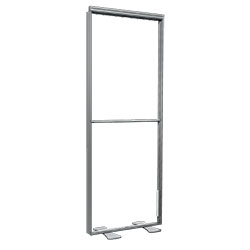 Ideal for creating an LED arch by combining it with a C module
Module I
LED frame 100mm double face
Including stabiliser feet
Four LED strips and one
Two junction profiles 950mm included
Flat Feet (FX295) included
| Model | Height (mm) | Width (mm) |
| --- | --- | --- |
| Advanced LED Arch | 2550 | 950 |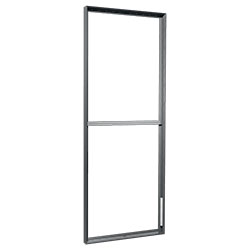 Module J
Single-sided 75mm LED frame
Four LED strips and one transformer included
Vector and Vector Beam Attachments Included
| Model | Height (mm) | Width (mm) |
| --- | --- | --- |
| LED Module | 2500 | 950 |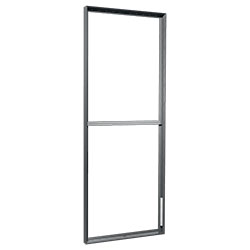 Four customisable faces
Module K
Extends full graphic to fit on a square return (module G)
Fixings included
| Model | Height (mm) | Width (mm) | Depth (mm) |
| --- | --- | --- | --- |
| Return Upgrade | 1000 | 1050 | 1050 |
---
---