Videos
| | |
| --- | --- |
| | This item weighs from 30kg |
| | Delivered in 15-20 working days |
| | Hardware has a 5 year guarantee |
| | This item takes from 15 minutes to set up |
| | This item is a premium product |
A Smart Investment
We're delighted to be able to introduce Clever Frame to our Modular range, a remarkable multi-function exhibition system that's surprising exhibitors the world over with its graceful design and almost endless, limitless structure and available accessory options.
Mirage is one of the first UK approved Clever Frame suppliers, which gives you the competitive edge, create a modern system that you can easily imagine, construct and develop over time. Your Clever Frame will be years ahead of the competition.
Looks fantastic, easily manipulated per event and self-build with confidence. Clever Frame, Clever structure, just clever!
No tools required – learn to build with confidence
Beautiful 3D Visuals and plans included
Extensive rage of quality Modular Stand accessories
Invest and impress – Tailored to change per event and develop for years to come
Clever Frame - Build and grow your own stand
Coveted award winning architecture Clever Frame is the next generation of self-build systems. Inter-connecting aluminium frames can be manipulated to form a wide array of exhibition shapes and display structures. Let us handle the logistics of transportation and the event build or be confident you can learn to handle the intelligent frame and graphic system easily. Either way with five year hardware support and a frame that can only grow with your business you'll be happy with the Clever Frame System for years.
Easily configured frames that can be adapted to different sizes and structures for individual uses or events. Also easily update or swap sections of graphics to achieve message changes without having all panels individually replaced, graphics are secured by magnets to the face of the frame to give a stunning and near seamless single or double-sided coverage.
Great for exhibition stands and private cubicles, enhance brand awareness with event scenery, sponsor walls and backdrops. Improve your workspace, create visually impressive reception areas and office dividers. Also great for imposing point-of-sale in-store promotions and information points. The options really are endless...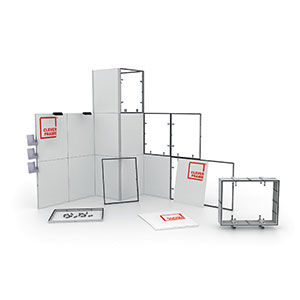 What is Clever Frame?
Building blocks for marketers. A system of reusable aluminium frames, able to connect with each other in any configuration. Exchangeable panels and a huge range of accessories, the system is adjustable for all event situations.
Features and benefits
Replaceable Graphics
Tool-less Connectors
Straight and curved frames
Accessories and lighting
Monitor panels
Door systems for privacy
Get an email quotation for Clever Frame.
Clever Frame Ideas & Examples
For more information on Clever Frame - check out the links below.
Similar Products